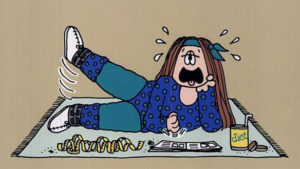 Reading the Sunday Chicago Tribune was an all-day affair in our house. By dinner time, sections of the paper were scattered everywhere – on the kitchen and dining room tables, the living room floor, on beds…
I remember my brothers and me racing out the front door to the bottom of our driveway to get the paper. The first one to get the paper was the first to get to read the comics.
I could never get enough of Andy Capp, Archie, Beetle Bailey, Broom-Hilda, Cathy, Brenda Starr, Blondie, Funky Winkerbean, Peanuts… All week, I quoted the characters and re-told their stories at the dinner table, at school….and wondered, what would happen next. Now, it seems crazy to wait an entire week to find out what'll happen next. But, I fell in love with all the guessing, predicting, and wondering.
In less than a hundred words, each comic strip provoked me, entertained me, and mystified me. Oh, and the artwork! I was completely fascinated by the colors of the characters clothes, hats, shoes, everything.
My family didn't discuss what we read in the Sunday paper. We just read and went about our business. It was a rather quiet day. As a teen, I couldn't wait to read the editorial pages. The letters to the editor were my favorite. I always tried to picture the writers, where they lived, how they dressed… Sometimes, I imagined meeting them.
I don't remember us reading books, other than occasionally skimming through a set of Encyclopedia Britannica that collected dust on our basement shelf. To me, reading was what I did all day at school, for homework and well, something that I had to do.
My parents didn't read us bedtime stories. Actually, I never thought of story as being contained in a book. But, looking back, I always knew story. It filled our two-story house.
Story was what my brothers and me passed around the dinner table every night. It was the entrée. My brothers reenacted scenes from The Marx Brothers and Star Wars; I delighted in laughing, making up stories, imitating teachers and telling what happened in school. I clearly knew story was something you make up, can't wait to tell – and that it gets better every time you tell it, especially when my brothers would chime in, add on, and we'd just keep going, weaving our tales. No one ever said "stop" or "stay focused" or "don't do that". We just let it rip. It was a loud feast of one "and then, and then" after another; it was what we did naturally.
On a recent visit with one of my brothers, we told stories for hours. You know, the kind that make you laugh till your stomach hurts. I lost track of time. We let it rip. It felt just right; it was dang fun! I didn't want our storytelling to end.
I think it's why I write and keep revising. I don't want it to end. I'm still in love with all the guessing, wondering, and still mystified by the art of writing.
How about you? Why do you write or do other art?
"I never thought Cathy would get married." –Cathy Guisewite, author of the comic strip, Cathy.