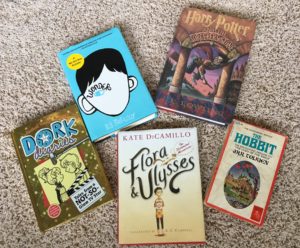 By Rondi Sokoloff Frieder
For the past two years, I have had the privilege of being  a judge in the Colorado Humanities Center for the Book's Letters About Literature Contest. This is a literary competition where students in grades four-twelve write letters to authors of their favorite books. Since most of these children have teachers who are passionate about reading and writing, the books chosen are some of the very best out there and many of my own favorites.
So what are kids reading these days? I am a judge in the fourth-sixth grade category. As you would expect, many eleven and twelve-year-olds are drawn to humorous titles such as Jeff Kinney's THE WIMPY KID and Rachel Renee Russell's THE DORK DIARIES. Others enjoy dramatic non-fiction like Jon Krakauer's INTO THIN AIR, or inspirational biographies like Misty Copeland's MY LIFE IN MOTION and Malala Yousafzai's I AM MALALA. There are also the lovers of fantasy  who are obsessed with JK Rowling's HARRY POTTER series and JRR Tolkien's THE HOBBIT and LORD OF THE RINGS trilogy.
But more than any genre, these pre-teens are choosing books that touch their hearts and evoke emotion. Titles such as John Green's A FAULT IN OUR STARS, RJ Palacio's WONDER, and Wendy Maas's A MANGO-SHAPED SPACE and GRACEFUL, show up year after year. Pam Munoz Ryan's classic, ESPERANZA RISING, Katherine Patterson's A BRIDGE TO TERABITHIA, Jerry Spinelli's STARGIRL, Jennifer Nielson's A NIGHT DIVIDED, and anything by Kate DiCamillo, are also favorites. Like adults, children want to be moved in a profound way by the books they read.
When drafting their letters, the students are required to use good grammar, strong word choice, and creative devices such as metaphor and simile. They have also been asked to relate an event in their life to the book they have read. This might be a problem with a friend, a family crisis, or the competitive nature of school and sports. One student wrote about being lost on a hiking trip, another expounded on coping with a parent's illness, and a third described the agony of moving to a new town and school. But when a student vividly described how much she wanted to "jump into the book" to comfort a character, I was impressed. She showed me her deep sense of empathy and insight, and articulated what I had felt when I read the very same book.
Books can surprise the reader. Years ago, when one of my sons was in high school, I gave him A MANGO-SHAPED SPACE. I was hoping that when the main character discovered she had a sensory disorder called "synesthesia," it would resonate with him. And it did. I will never forget the smile on his face when he bounded into the kitchen. "I'm just like her," he announced. "Like who?" I asked. "The girl in the book, Mia. I have what she has. We're both amazing artists, but algebra and Spanish make us crazy." A year later, when he wrote his college essay, he described his synesthesia in full detail, emphasizing the point that he was "hard-wired" to be an artist.
As a writer of middle grade fiction, here's my takeaway from reading these letters – The books we write are important. They help children navigate the ups and downs of their roller coaster lives. Writers have an obligation to dig deep and create characters and stories that will touch their readers in ways that make them say, "That's me." Your character can challenge the reader to keep going, to try harder, to be compassionate. More importantly, your book can help the reader understand that he/she is not alone.
Being a judge in this contest has been inspirational. Kids in this age group are often considered  anti-social, phone-obsessed, video-game-addicts, even bullies. But these letters have convinced me that after reading a powerful book, these same children are empathetic and deep-thinking.  After attending literary agent Donald Maass's workshop on "The Emotional Craft of Fiction" last weekend, I know he would agree with me. He told us over and over that we change lives by writing good fiction… that a great story opens a reader's heart and gives them a sense of hope.
So get to it people. Sit down, open up that computer, and write a book that makes your reader feel something. You might change someone's life, and in doing so, improve our world in ways you can only imagine!
What books have moved you or affected your life in some way? Send me some titles and I'll put up a list.