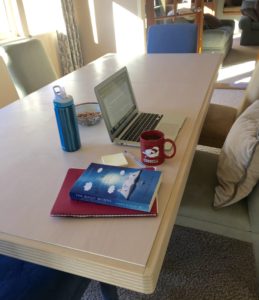 By Rondi Sokoloff Frieder
Every Tuesday morning, I clear off my dining room table, plug in my laptop, and wait for the writers to arrive. They bustle in around 10:30 carrying cups of coffee and bottles of water along with their computers and notebooks. After putting their lunches in the fridge and setting containers of nuts and assorted baked goods on the table, we settle in. Mostly, we sit in the same chairs. Some add a pillow, while others lower window shades to block the sun's glare. Then, after a bit of schmoozing and noshing, we set the timer. Our chattering stops and the room becomes quiet. It's time to write.
Three of us met a few years ago at a "Write-In" during NANOWRIMO – National Novel Writing Month. Although we were complete strangers, we were all determined to write a 50,000-word novel in a month. Then, on the last day, after we had all become "Winners," someone suggested we keep going. We hardly knew each other's names. We certainly didn't know much about each other's books. But we had something very important in common. We were passionate about writing.
We decided to continue working at our local library every Tuesday morning. We reserved a conference room for two hours, kept our voices down, and got to work. It was wonderful. So wonderful, that when the library decided to do a major remodel and close their meeting rooms, we knew we had to find another location. I volunteered my dining room table.
Our group of three has now grown to five. Other writing buddies pop in now and then, but the core group is extremely reliable. Frigid temperatures, snowy roads, and needy relatives cannot keep us away from our beloved writing projects! And, when I'm out of town, others host at their dining room tables. On some days, we even write remotely, and text each other when timed writing sessions are about to begin. We typically get in three, forty five-minute sessions. And here's the best part: the discipline of writing consistently has spilled over to other days of the week. I now find myself carving out short writing sessions almost every day.
Our projects span the genres. Two of us are writing MG fiction and picture books, while the others are focusing on women's fiction, murder mysteries, and science fiction/fantasy. Although our content is widely varied, we often share information about local classes, conferences, webinars, and books on craft. We sometimes read paragraphs aloud, give each other immediate feedback, revise, and read again. We talk about query letters, character arcs, plot twists, even murder suspects! One member has been independently published and we all cheered when her cover designer came up with Book Two's gorgeous graphics.
But most importantly, we write. Every Tuesday, no matter what, we set aside other commitments and scribble "10:30-2:30-NANOS" on our personal calendars. We put our work ahead of doctor's appointments and lunch dates. I even had my hairdresser stop me when I was about to set up my next visit on a Tuesday. "Isn't that your writing day?" she asked. "It is," I replied. "It most definitely is!"