By Susan Wroble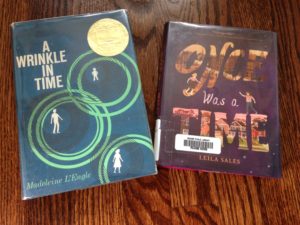 I picked up Leila Sales' amazing book Once Was a Time at the library last week. Immediately, I was engrossed in its themes of history and time travel and, above all, friendship. It made me start thinking about what makes a book great. I know what I do when I read what I think is a great book (and what I did with Sales' book) – I fall in love with the language and the characters and the intricate weaving of the plotlines. I cry towards the end, hug the book when I finish, and finally turn right back to page one and voraciously start the whole thing all over again.
But, as I said, that's what I do. It isn't what a great book is. Author and rare book dealer Rick Gekoski tried to answer this same question in the context of the Man Booker Prize, the annual award for the best book written in English and published in the United Kingdom. In a 2011 article for The Guardian titled What's the definition of a Great Book?, he wrote "When you read works of this quality you often feel, and continue to feel, that your internal planes have shifted, and that things will never, quite, be the same again."
Shift, change, movement, transport… My definition of a great book would be one that transports the readers — in both meanings of the word. Readers should feel first that they are in another place or time, and second that they are overwhelmed with emotion. For me, that feeling initially came when I read Madeleine L'Engle's A Wrinkle in Time. Reading Wrinkle gave me insight into concepts of advanced physics, and changed my beliefs of what is possible and what is real. The book transported Meg and Calvin and Charles Wallace and me across space and time, but more importantly, it transported me to a place of happiness in the knowledge that love will always triumph.
I narrowed my question, no longer concerned about what makes a book great, focusing instead on what makes a book great for me. It's a book that transports, that carries me away, that lifts me up. And when you find a book like that for you, give it a hug from me!